Dining options in Lake Louise are limited and there is no restaurant on-site at Paradise Lodge and Bungalows.
In Guest Rooms: We do provide oatmeal and granola bars complementary in the coffee baskets of all rooms which we replenish daily. We also offer coffee, tea, and other granola bar type snacks every morning in the lobby, which you are welcome to bring back to your room. All the rooms have a small fridge, toaster, microwave, and coffeemaker. There is also a BBQ available for use on-sight. If you wish to use it, let the front office staff know and we will arrange to have it lit and ready for you. Please inquire with the front desk if you have any other questions regarding the amenities in your unit.
Groceries: If you are looking for something more substantial, there is a small grocery store / market in the village. It offers a small selection of the necessities. Please keep in mind that given Lake Louise' remote location, groceries tend to be more expensive. We recommend stopping in Banff or Canmore if you are passing through as they have a better, more abundant selection of goods.
Cafes and Bakery:
Restaurants:
As the dining options in Lake Louise are limited, we recommend making reservations ahead of time. We provide a menu book in the front office of most all the local restaurants and are happy to call ahead for you to make a reservation. Below you will find a list of a few of our favorites if you wish to make reservations prior to your arrival.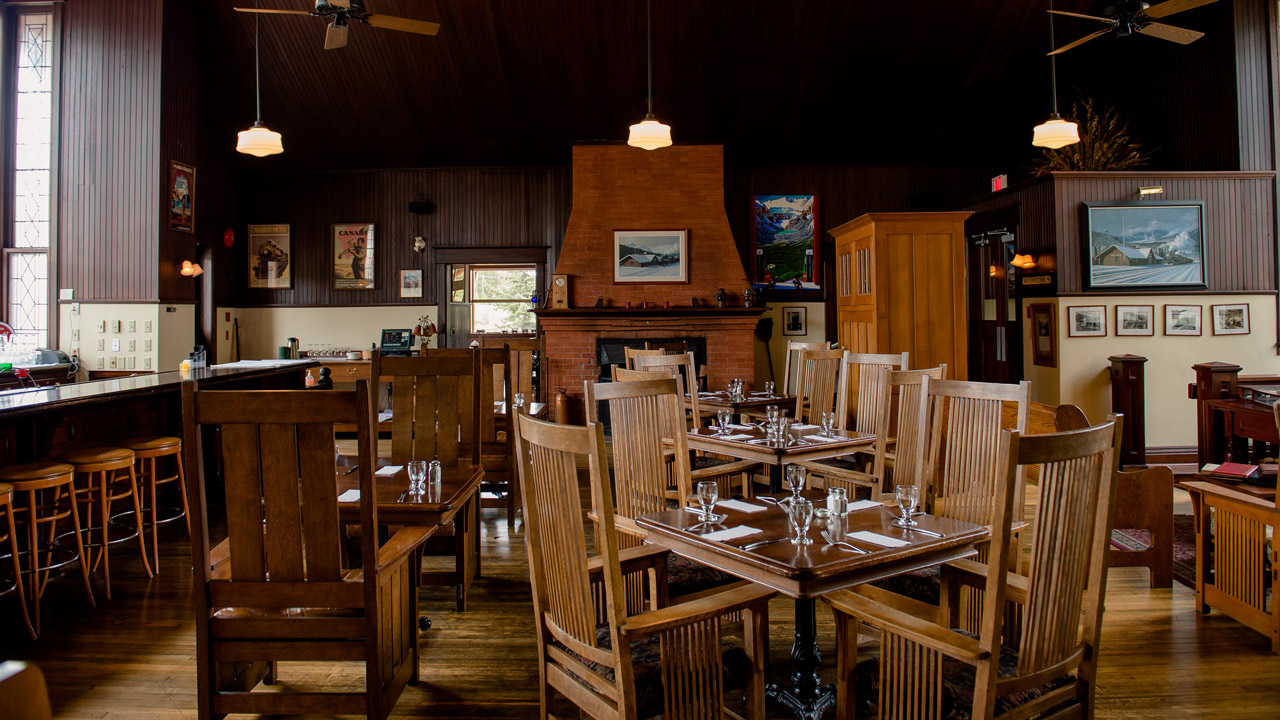 The Station Restaurant:
(403) 522-2600
The Station Great Room is a large area with very high ceilings and large leaded glass windows on each end, finished off with a brick fireplace and chimney on one side. Located in the historic Lake Louise rail station, the Station restaurant is a nice place to enjoy contemporary cuisine in a casual environment. Reservations recommended.
The Delamere Dining Car At The Station Restaurant:
The historic Delamere Dining Car restaurant offers you an opportunity to step into Canadian railway history while enjoying a fine dining experience.
The Dining Car is open Friday, Saturday and Sunday evenings for dinner. 
(403) 522-3989
The Post hotel offers both fine dining and casual pub dining. The Outpost is the name of the causal pub and is first come first serve. Reservations can be made for their main, fine dining restaurant. The Post Hotel also hosts a small, 24-seat, Fondue restaurant.
(403) 762-4155
Storm Mountain Lodge offers delicious Canadian cuisine prepared with a dedication to organic ingredients and naturally raised Alberta meat and wild fish. All their breads, desserts and breakfast pastries are baked daily on site.  Storm Mountain Lodge is located on the 93 South, 5 minutes after turning off Highway 1 toward Kootenay National Park and Radium Hot Springs, look for the "Storm Mountain" sign, it comes quick!  Reservations are recommended.
(403) 522-2201
Located in the Lake Louise International Hostel, Billy Peyto's Café is as casual as it gets. It is the perfect place for a quick burger and a beer. They do not take reservation, but it can get quite busy mid summer, so be prepared.
(403) 522-3791
The Inn offers three different dining options: Legends Restaurant, Explores Lounge and the Timberwolf Pizza and Pasta Café. Timberwolf provides good, casual food to enjoy in or take-out. It is one of the few take-out restaurants in Lake Louise.
The Mountain Restaurant & Javalanche Cafe: 
(403) 522-3573
The Mountain Restaurant offers priceless views, and amazing comfort food to keep you going for the day ahead or to enjoy on a nice evening out. Reservations can be made on their website or by calling the restaurant directly. Javalanche Cafe offers Seattle's Best Coffee and expresso locally roasted from Banff Roasting Company. Perfect if you're looking for something to take with you on the road or for a hike. Freshly made sandwiches, and daily baked pastries.
(403) 522-3511
There is a collection of dining facilities in the Fairmont Chateau; however, during peak season many of these restaurants are reserved for hotel guests only. It is best to call ahead to see if they are accepting outside guests. The Glacier Saloon is one that often does take outside guests.